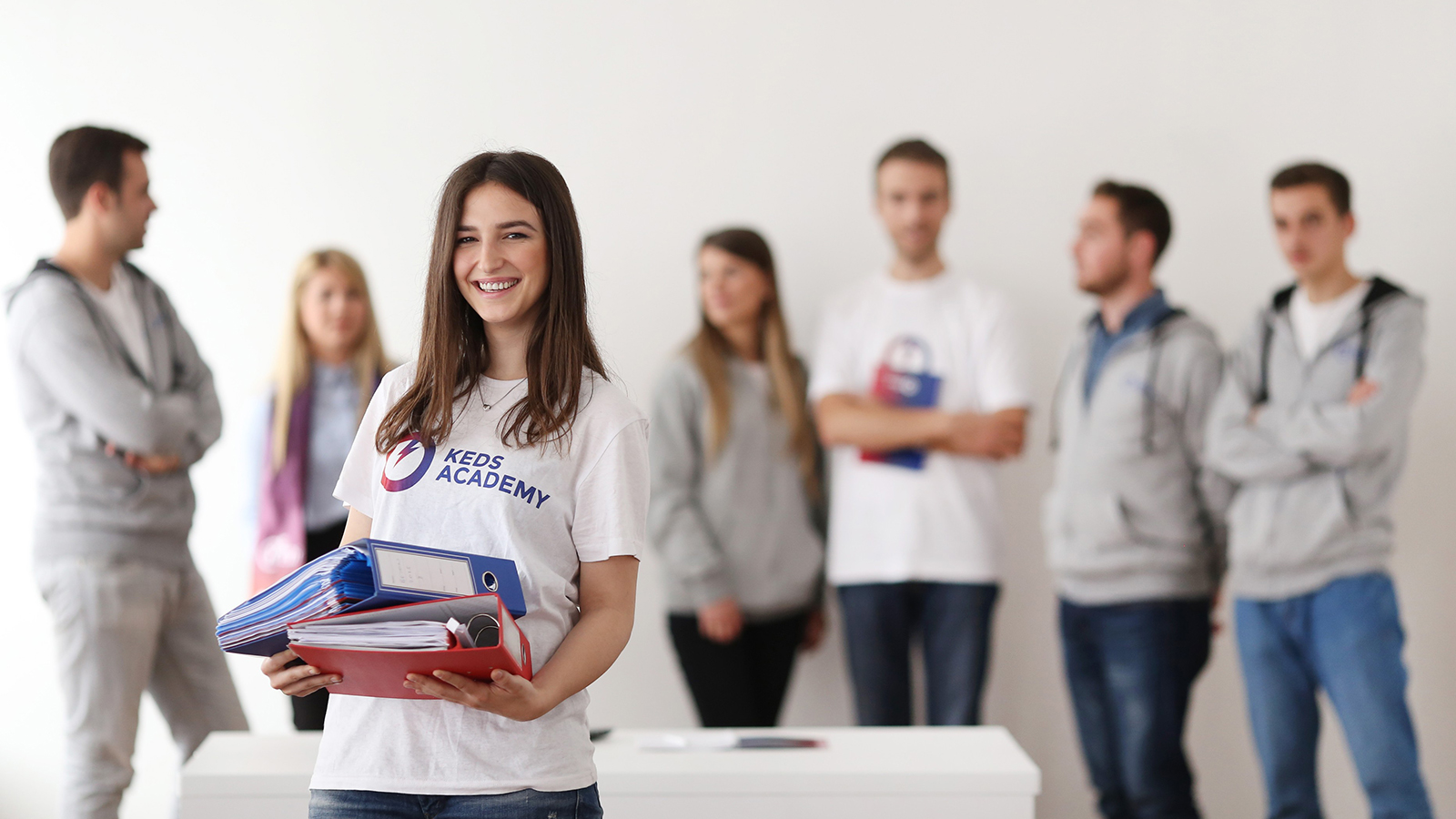 December 01, 2019
KEDS ACADEMY a story of success
KEDS Academy now has entered another year of operation and every year is stamping successes. In these years few from these students now have taken important positions in the company, some of them have gained the right for post-university education in different European centers, and four students have reached up to America, they have won scholarships from foundation Millennium Foundation Kosovo, for the program "Empowering Women in Energy Sector."
Former students, with important positions in KEDS/KESCO
Burimi, Drenusha, Bajrami, Alushi, are few from former students which now have taken important positions in KEDS, and with this also new responsibility and have achieved to make changes inside the company.
Bajram Neshati – Manager for analyzes and reporting in network division
Bajrami, actually performs the duty of manager for analyzes and reporting in the network division of KEDS. His journey in the corporate starts from 2014, through the program of KEDS Academy, and he belongs to the first generation.
"The practical work in KEDS I started together with other colleagues of the academy in 2014 and 5 years from that time, now I have been raised also 3 times in position inside the companies KEDS and KESCO and here should not be bypassed contribution of knowledge from the training of academy program.
With academic knowledge and post-study, the theory – practical knowledge from the program of KEDS Academy and practical experience for more than 5 years in KEDS and KESCO, now I have the task the preparation of analyzes respective of distributive network of KEDS and also preparation of reporting's which are linked with network division of company".
Drenusha Gashi – Engineer in department relay protection and SCADA
Drenusha has been working for two as an engineer in department relay protection and SCADA. KEDS Academy has opened her doors to professional carrier. Drenusha has achieved to be part of the newest project and the same time biggest which is being developed in KEDS- SCADA.
This academy as it opened the doors to me of the professional carrier in the same method I believe that one such thing I will do with young ones of next generations. Being part of this department has helped me grow professionally every day by learning enough about the proper operation and functioning of the distribution system. This increase has certainly helped immensely in being a part of the realization of the important SCADA project. The collaborative environment and working with professional people with whom we share the same visions at work are two of the many other things that make me very happy to be a part of this company.
Burim Islami - Manager in Office for Safety and Health in Work & Environment
For Burim, internship programs such as KEDS Academy improve student employment, academic results, and career orientation. As a manager, he strives to encourage by demonstrating passion and positivity for the work he does. Burimi, too, belongs to the first generation of KEDS Academy, and now holds the position of Manager at the Office for Safety and Health at Work & Environment.
"This has happened to us as well, specifically to me as part of this program. After the selection, I continued to work with a lot of dedication and success was not lacking.
Thanks to the dedication, support, and success, it didn't take long for me to advance to the leadership position and then to the Manager for Safety & Health at Work & Environment. Our mission continues with the motto "Zero accidents at work". The responsibility is exciting and enjoyable. When everyone around you looks at you and is ready to follow your lead, it is simply a rush to the goal. Creating a collaborative environment where everyone feels heard, respected and valued is a key step for us new managers. Being a team working together creates a welcoming and supportive company culture. "
Alush Mexhuani- Acting Manager in Department of System Operation
Alushi belongs to the third generation of KEDS Academy, and he for his successes, among others emphasizes lecturers from professors of Bogazici University, the practical part of the program and experience of the staff of the company. "Even myself as part of this program I have gained knowledge which is following me also today as employed in Department of System Operation, concretely in position Manager of Network. Now that I am in one managing position I see how much we gained/benefited from the program of KEDS Academy.
All the lessons learned and the experience gained during the KEDS Academy program from individuals proven in part of leadership, management, I try to apply these advices and create a collaborative work environment where everyone feels valued and appreciate the weight, the importance it has in relation to the objectives of the unit and the objectives of the company in general. " Lessons taken during the period of KEDS Academy were a base and for the professional development of students and pusher for advancements and new experiences in the field of energy."
Albiona Lalinovci, Alketa Sahiti, Erza Rama and Fjolla Fazliu, former students of KEDS Academy, are studying in America, which have won scholarships from Millennium Foundation Kosovo, part of funds of American government.
Students of KEDS Academy are among 28 scholarship winners from the whole Kosovo. Albiona Lalinovci I am one of the scholarship winners of the program "Women in Energy" launched from MFK (Millenium Foundation Kosovo), which supports the education of women in the field of electricity.
I am following the program Electro-Mechanical Technologies in Engineering with a specialization in Power Plant Technology, where we are getting trained further in control, operation, testing, repair and making automatic the equipment in this system