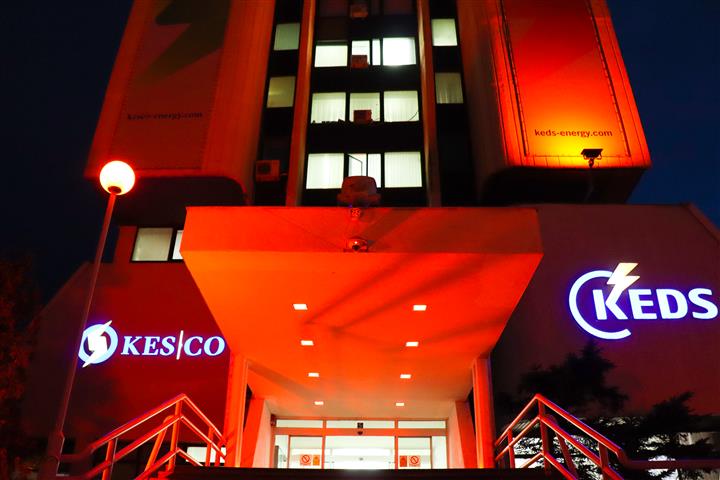 November 16, 2020
KEDS and KESCO have joined the international campaign "Orange the World", undertaking a series of activities during these 16 days of activism
The activities started with the lighting of the KEDS HQ in orange, one part of the street of the capital city of Prishtina, placing posters in the elevators of the building, cashiers equipped with ties and scarves with the symbolic colour and many other activities that will be displayed continuously.
These activities aimed at promoting gender equality and partnership between men and women in society, community and family; raising the awareness of the younger generation on the importance of being all together in the same direction to combat such social phenomena as gender-based violence.
To support women and their potential, the Chief Executive Officer of KEDS Mr. Alper Erbaş, gave a message:
"Efforts to prevent and end gender-based violence began many years ago. Unless we come together and raise our voices and act against violence, equality cannot be achieved. We at KEDS support and encourage our employees equally, providing space and opportunities for everyone to develop personally and professionally. Let us make the world orange by acting against injustice! "
A vocal advocate for the empowerment of women's rights is also the chairwomen of the board of Limak Investments, Mrs. Ebru Ozdemir, who also joined the KEDS and KESCO initiative for the campaign.
"Preventing gender-based violence is a shared responsibility of men, women, boys and girls. So, this is the essence and the most effective way to prevent gender-based violence - joint responsibility and commitment", says Ozdemir.
KEDS and KESCO have previously conducted trainings and organized activities on the issue of gender equality, where among others it has signed the principles of #WEPs for gender equality; the complaint box has been placed in 7 districts; a room for breastfeeding mothers has been placed and many other concrete steps in this regard.
---
This campaign was initiated by the First Institute of Global Women Leadership, coordinated by the Centre for Women Global Leadership in 1991. This campaign takes place every year, starting from November 25 (International Day for the Elimination of Violence against Women) until December 10 (International Human Rights Day), including other important dates. The 16-day campaign is used as an organizing strategy by individuals and groups around the world to eliminate violence against girls and women.