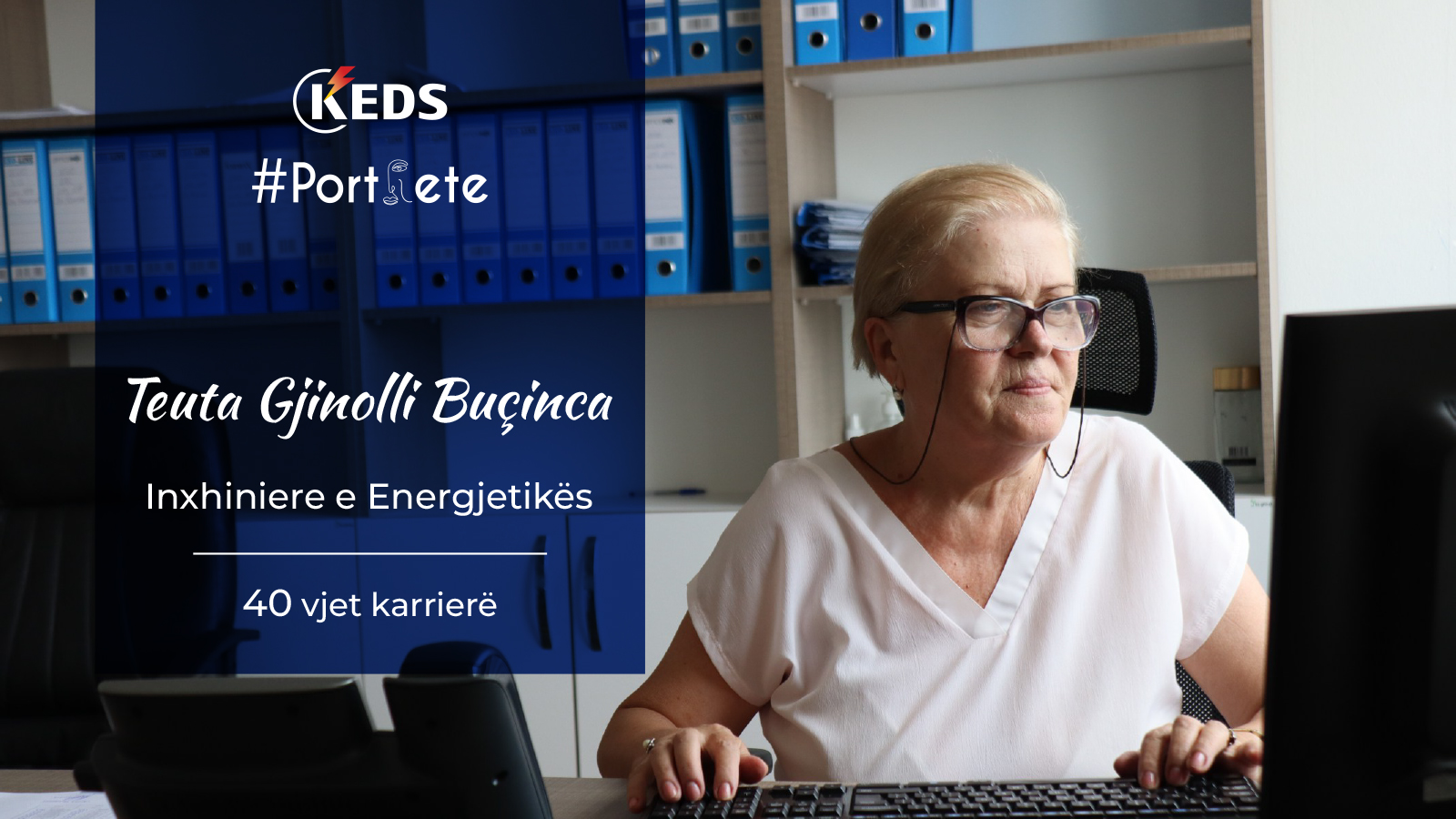 July 22, 2021
Interview with the pioneer engineer of KEDS - Teuta Gjinolli-Buçinca
Teuta Gjinolli-Buçinca has dedicated her entire career to energy field. She is doing the profession of engineering for almost 40 years now.
Teuta is part of KEDS since the founding of the company in 2013. The big energy projects led and supervised by Teuta, continue to provide electricity solutions for thousands of residents of the country even today.
Born in Gjilan, on September 3, 1956, Teuta completed high school at "Zenel Hajdini" gymnasium, the branch of science, to then continue her studies in the Faculty of Electrical Engineering at the University of Prishtina, Department of Energetics.
This article features excerpts from the interview with Teuta where we talked about her life and career, focusing on her profession and experience as an energy engineer, now close to retirement.
At first we asked Teuta why she chose the engineer profession and she talking with greats passion, told us:
"My choice of profession has been influenced by my love and inclination for scientific subjects such as: mathematics, physics, chemistry, etc. Since elementary school I loved these subjects, so this has been the basis for selecting my profession."
The Faculty of Energy then had a 5-year system and most of the literature with which students studied was in Serbo-Croatian. Also, at the time Teuta enrolled in the university, the engineering profession was considered a male profession. But despite all of that, Teuta was determined to achieve success in her journey as an energetics engineer.
She started her career as an engineer in Elektrokosovo in 1982 in Gjilan, a year after graduating from the technical faculty, and since then, 40 years of fruitful experience have passed for Teuta.
Now I have 40 years of work experience in this company, which was initially a public company, while 8 years ago it was privatized and today we know it as KEDS. During these years I have worked in several departments and done both, field and office work.
During her career, Teuta has been the project manager of several major projects throughout Kosovo. Some of these projects have been donations from foreign countries to Kosovo.
One of these projects that Teuta singles out is the project she led immediately after the war: "The first and largest donation after the war (32,000,000 German marks of value) was during the period November 1999-June 2000, by the British Government, DFID. The time duration of the implementation of this project was only 6 months and covered the entire territory of Kosovo. "
Regarding Teuta's experience at KEDS during these 8 years, she says:
For these 8 years that I have been part of KEDS, a lot of work has been done to expand the network. For all these years I have been working, never have I seen so much work done in a company, nor was invested this much that is being invested at KEDS. Here, we have had an average of 20 million euros in network investments every year.
According to Teuta, investments are made to improve the electricity supply, at the same time life, to have better quality electricity services and more optimal distribution.
Mrs. Buçinca added that the inherited energy network has not been in good condition at all and KEDS investments over the years have been very welcomed.
"It is worth mentioning that the electricity network has been destroyed by the war, especially during the 10 years as we were under Serbian government. It has not been invested at all and this has caused disruptions and the unavailability to supply customers with electricity both in terms of quality and quantity. "
Speaking about the successful results of KEDS investments, she emphasizes:
"With the investment projects realized so far, we have managed to replace the old wooden poles with concrete poles, rings have been created - for alternative supply, which means that if breakdowns occur, opportunities have been created so that consumers are not left without electricity. "
Of course, this great work done by KEDS, has paved the way for staff expansion. This is also made possible by the KEDS Academy program, which within a one-year period of the program, aims to train and preprare Kosovar students for the labor market.
During the conversation Teuta amazed us with the love and dedication she nurtures for her profession as an engineer.
I have never been able to use more than 5 days of vacation because of the nature of work. The completion of projects has always been challenging and has required constant commitment.
Of course in addition to professional development, there are challenges that she has faced during her career. According to Teuta, things would be a little easier if law operated properly in Kosovo.
This work is very creative even though there are great challenges, because the completion of each project brings many benefits to the people. The terrain itself is also a challenge, because you work with different people. Since this work depends on many factors, you have to be a bridge, to know how to find a common ground with everyone.
As one of the few women engineers in the country, in addition to office work, Teuta has overseen fieldwork, which has sometimes not been easy to manage, but with her relentless work and efficient communication - success was always present.
According to Teuta, each of us should be more communicative and more open to learn new things in the work environments.
Overcoming work challenges has of course been made easier with the help of collaborative colleagues in and out of the office. Teuta will definitely miss the pace of work with which she has been accustomed for almost 40 years and the time she spends with colleagues.
Maybe it will be a bit difficult for me to get used withour thw work I did daily. I will miss communication with colleagues, sometimes we laughed, we talked, we had problems and difficulties that required solutions, but by building good relations between us, we succeeded.
Whereas, when we asked her how she spends her free time, Teuta told us that she has a passion for reading and walking.
She also talked about the book she was reading these days, entitled "Butterfly Room" by Irish author Lucinda Riley. Another author from whom Teuta has read many books recently is the Turkish author Elif Shafak.
In the end we asked Teuta if there is any message for women engineers. She gave us the message for both genders.
My message is that I have to work hard, to work with full our energy and with our entire being. You have to love and dedicate yourself to the work you do, so you will be able to overcome all the vicissitudes you will face during the work and this will at the same time, bring you success – in the realization of your objectives and your duties.
Written by: Florida Kastrati